Many variants of the R4 were made. These can be identified by the 'R code' on the oval plate on the bulkhead. The three main codes used for UK cars are R1120 (747cc L), R1123 (845cc L and TL) and R1128 (1108cc GTL). A complete list is at the bottom of this page.
Oval plate
Edit
The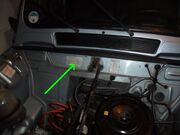 oval plate gives the R code and some other details. It is found on the bulkhead as shown in the photo. Most R4s will have an oval plate and a diamond plate. Some later R4s have a larger single rectangular plate as shown.
The oval plate may contain the following numbers:
Vehicle type ('R code')
Special features
Basic equipment version
Fabrication number
Model year or paint code
Assembly factory

Typical values at 7 for the R4 are:
J = Billancourt, France
Y = Novo Mesto, Slovenia
List of R codes
Edit
At some point, Renault dispensed with the 'R'. For example the Savanne's 'R code' is just 112C.
R codes (rows in bold indicate UK models)

| R code | Models | Engine | Production | Notes |
| --- | --- | --- | --- | --- |
| R1120 | R4, L | 747cc | 1961-1962 | |
| R1120 | R4, L, Export, Parisienne | 747cc | 1961-1972 | |
| R1121 | R3 | 603cc | 1961-1962 | |
| R1122 | Super | | 1962-1963 | |
| R1123 | L, Export, Parisienne, Plein Air | 845cc | 1963-1982 | |
| R1123 | L, TL | 845cc | 1982-1985 | |
| R1124 | Super | 845cc | 1963-1964 | |
| R1125 | básico, Super, TL | 852cc | 1968-1981 | Spanish-built |
| R1126 | L, TL, Export | 782cc | 1972-1985 | |
| R1128 | GTL | 1108cc | 1978-85 | |
| R1128 | GTL, Clan | 1108cc | 1986- | |
| R1129 | | | 1976-1979 | |
| 112C | TL, Savanne | 956cc | 1986- | |
| | | | | |
| | | | | |
| R2102 | F4 | 747cc | 1962-1966 | |
| R2104 | F4 | 845cc | 1963-1968 | |
| R2105 | F4 | 747cc | 1966-1972 | |
| R2106 | F4 | 845cc | 1968-1986 | |
| R2108 | | 852cc | 1968-1975 | Spanish-built |
| R2108S | | 852cc | 1969-1981 | Spanish-built R2108 with elevated roof |
| R2108SA | | 852cc | 1973-1981 | Spanish-built R2108S with elevated roof and side windows |
| R2109 | | 782cc | 1972-1982 | |
| 210B | F4 | 1108cc | 1986-1988 | |
| R2370 | F6 | 1108cc | | |
| R2391 | F4 Vitrée | 845cc | 1974-1982 | |
| R2392 | F4 Vitrée | 782cc | 1974-1982 | |
| R2430 | F6 Vitrée | 1108cc | | |
| 3C2370 | Pick-up | 1108cc | | |
| | | | | |
| | | | | |
| | | | | |